24 September 2013
Catching up
So, the software that runs this site coughed up a major hairball some time last year, resulting in this nice frozen-in-2006 look. Rather than continue the frozen look I thought I'd add a post by hand.
Frisket and Sailor are ok.
They had an "interesting" 2012.
In February they were both diagnosed with early stage kidney disease. The causes are unknown. They have been responding well to treatment (enalipril for both and norvasc in addition for Frisket).
In the course of investigating the kidney disease we discovered Frisket had a tumor on her parathyroid. This was the root cause of her loss of muscle mass (which I probably didn't blog). By the time of her surgery in May she was having difficulty walking much and her rear legs frequently just dropped out from under her.
She had surgery in early May 2012 and recovered fantastically, within a month she had picked up much more muscle mass and was jumping atop park benches and beds with abandon.
In June 2012 we moved from the DUMBO section of Brooklyn to West Chelsea in Manhattan.
The dogs mostly adapted well to the change of scene but they miss Brooklyn Bridge Park.
In July I started working full-time for the first time in years, another change which they mostly accepted, though this meant attending "doggie day care" almost daily due to the ongoing renovation work in our condo.
In October we got hit by the hurricane, and while our apartment was ok, the building flooded requiring our temporary displacement to a hotel on Union Square (which we'd happened to stay at during the move).
Fast forward into this year: I'm no longer working full time (and the dogs are quite happy about that). Frisket has a weird eye thing going on which may be a nerve problem or sign of a tumor somewhere undetectable (we've run tests: nada).
And now some photos:
June 10, 2012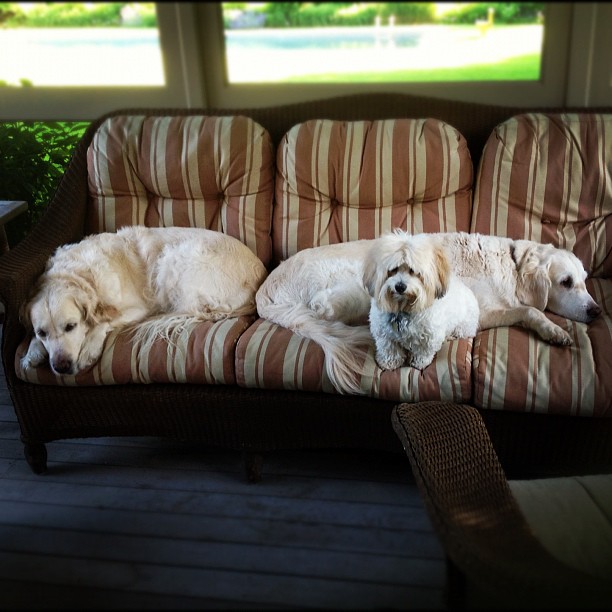 June 08, 2012
June 04, 2012
April 24, 2012
March 14, 2012
March 13, 2012
February 19, 2012
February 07, 2012
February 02, 2012
January 27, 2012
January 24, 2012
January 20, 2012
January 17, 2012
January 08, 2012
January 07, 2012
December 31, 2011
December 23, 2011
December 20, 2011
December 15, 2011
December 11, 2011
December 03, 2011
December 02, 2011
November 30, 2011
November 13, 2011
November 05, 2011
October 28, 2011